Over-the-toilet is a horrible, convoluted name for an otherwise functional and often necessary piece of furniture. But I digress. Over-the-toilet shelves provide readily accessible storage in small bathrooms. They're easier to set up and take down than a wall cabinet. Best of all, they distract from the ugliness that is the Johnny House commode.
Spirich Home Bathroom Shelf
This is a very affordable shelf that offers quite a bit of storage. The shelf is compactly designed and doesn't waste an inch of space. The shuttered door adds a touch of elegance to an otherwise basic piece of furniture. The Spirich Home Bathroom Shelf is not able to stand on its own, however, and should be nailed into the wall in the provided location on the back.
The major drawback to this shelf? It's made of particle board with a white melamine coating. Particle board does not do well in humid environments such as a bathroom. Sprinkle a bit of water on particle board and watch the particle board disintegrate. The melamine layer is very thin and prone to chipping and warping after continued use. Any shelf made of particle board (or its cousin material MDF) would do better in a bathroom without a shower. At least try to keep this shelf out of the tub and shower splash zone.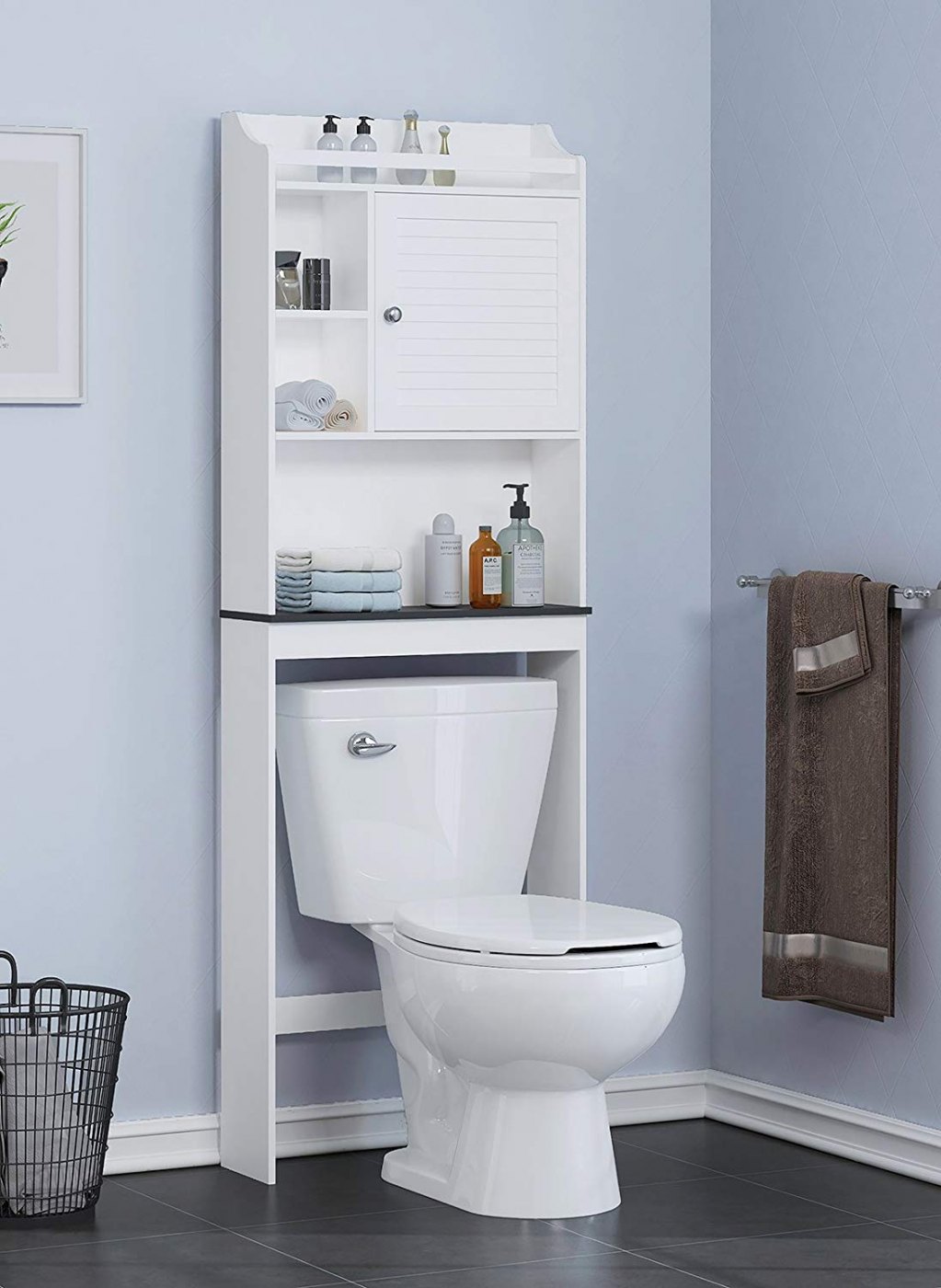 Giantex Over-The-Toilet Cabinet
While it doesn't maximize storage to the extreme, the Giantex Over-The-Toilet Cabinet provides a little bit of oomph in a minimalist bathroom or underneath a wall cabinet. Beadboard doors keep everything out of sight—even the toilet paper rolls! Like most affordable pieces of furniture, this is made of MDF coated with white melamine and will wear in a very humid environment. But it will do the job for a few years, which is probably as long as you'll want it around. You'll need to nail this one into the wall for stability—especially if you use the toilet roll canister.
Pottery Barn Ainsley Shelf
Don't be fooled by the sleek, minimalist lines of the Pottery Barn Ainsley Shelf—it's quite hefty and sturdy! It's the only bathroom shelf I've seen that doesn't need to be fastened to the wall, although that option is still included in the setup kit. This shelf is made of solid hardwood with a moisture-resistant lacquer sealant finish, so it stands the test of time next to a shower or bath. The feet have plastic guides to protect your bathroom floors. And the baskets are included!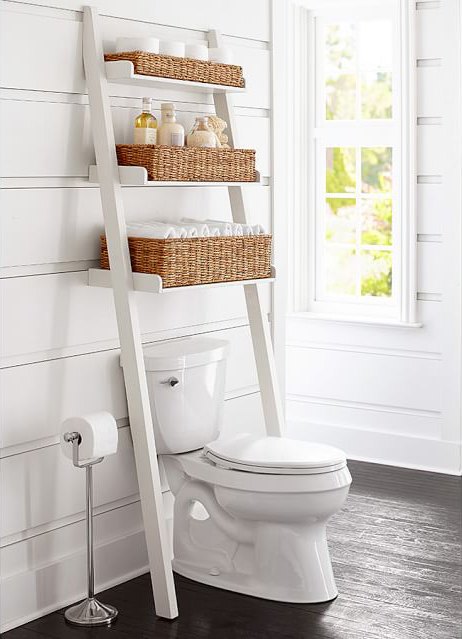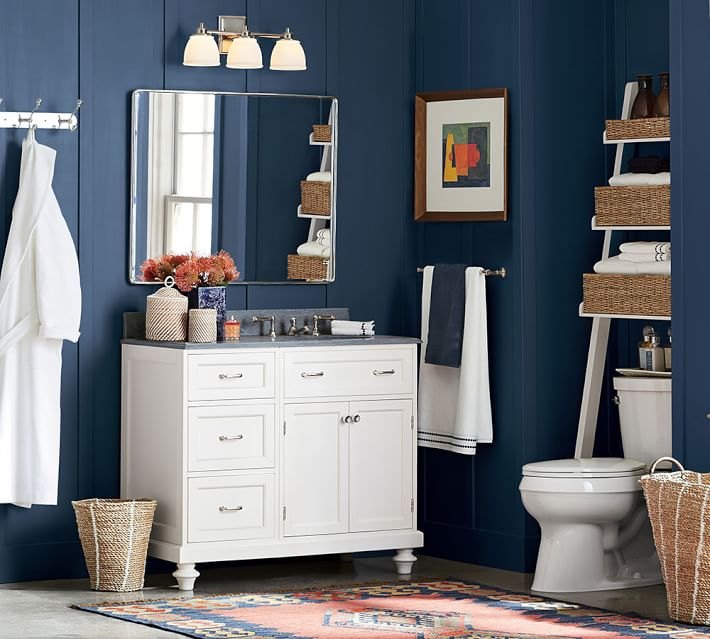 But there is a catch. Those cute little baskets have a wavy basket weave bottom, which means that nothing stands up on its own. I use mine for hairspray cans and skincare bottles. The product bottles were constantly tipping over. I tried to find a hard plastic basket for the inside, but the basket-in-a-basket look was overkill. So I created some wood basket platforms which I'm quite happy with.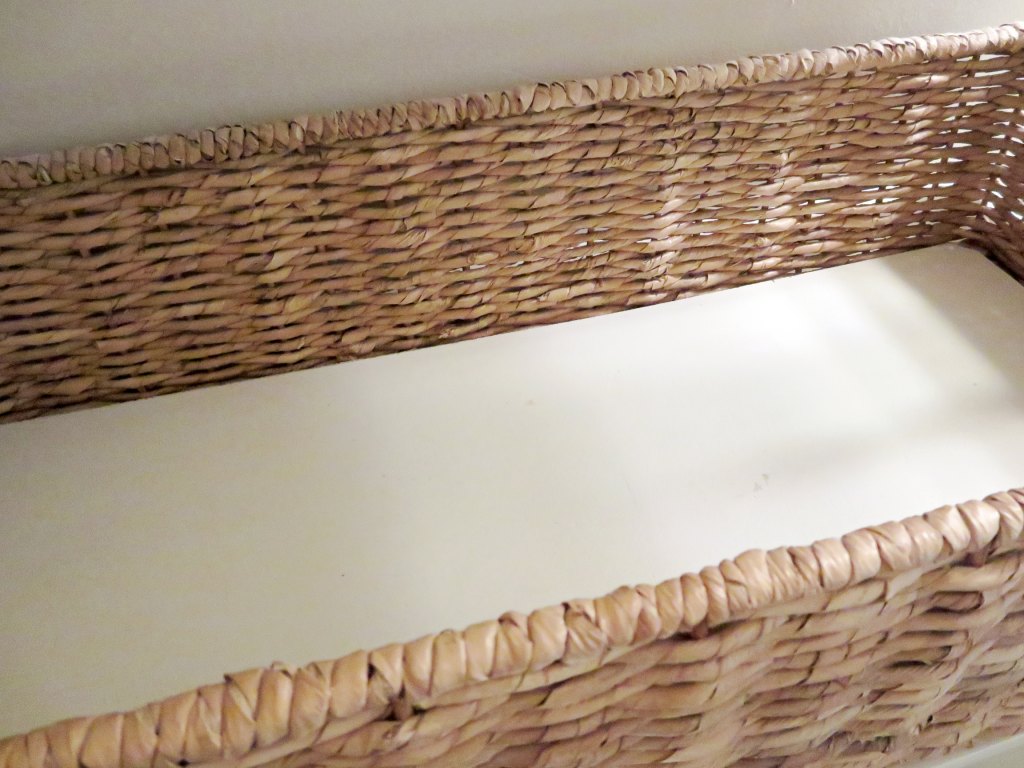 If you'd like to create your own basket platforms, you will need:
Soft wood such as lauan or balsa
Razor blade designed to cut laminate flooring
Wood filler
Semi-gloss spray paint
Lay down several layers of cardboard to protect your floor or table and place your wood piece on top of the cardboard. Measure the inside of your baskets. Draw the rectangular shape on your wood piece with a pencil and a ruler. Cut out the rectangle using the razor blade. Test the new platforms to make sure they fit in the baskets. If they're too large, trim the edges a little (I had to round the corners of my platforms to fit in the Pottery Barn baskets). Fill in any chips or cracks in the platform with wood filler and let dry for several hours. Once the wood filler is completely dry and cured, take your wood platforms outside and spray paint. Let dry, then flip and spray paint the other side. Enjoy your new table basket storage!