Merry day-after-Christmas, dear readers! As the holiday season wanes and you start putting decorations away, you might wonder how to make the setup and takedown quicker next year. The biggest hassle seems to be the fragile ornaments on the tree—especially if those ornaments are of the collectible variety. Are you still boxing and unboxing your collectible ornaments each year? Well, read on, as there is a better option! Let's spend more time decorating and less time cleaning up!
Collectible Christmas ornaments, such as Hallmark Keepsakes or Lenox ornaments, present more storage challenges than any old "box of baubles." Collectible ornaments are only produced for one season and are not easy to replace; this requires careful storage where the ornaments are protected from breakage and wear. Many ornaments vary quite a lot in size, so it's best if the storage containers have customizable compartments.
In addition to the ornaments themselves, the ornament boxes may need consideration. Most collectible ornaments come in boxes, and boxes in "mint" condition  greatly increase the ornament's re-sale value. Ornaments and boxes are best kept separate to protect the boxes from constant wear. Ornaments are also much easier to hang each year when they are kept separate from the original boxes.
Storing Ornaments
While there are many ornament storage containers out there, very few have the ability to change section sizes within the container. These Archival Storage Boxes come in three versions of 28, 16, and 12 sections. Although they aren't marketed specifically for ornaments, they are much cheaper than most ornament containers and work just as well. Both the 16 and 12 section versions have movable dividers so you can accommodate even the largest of Hallmark ornaments. The boxes are made of sturdy acid-free cardboard that help protect the ornaments from signs of aging over time.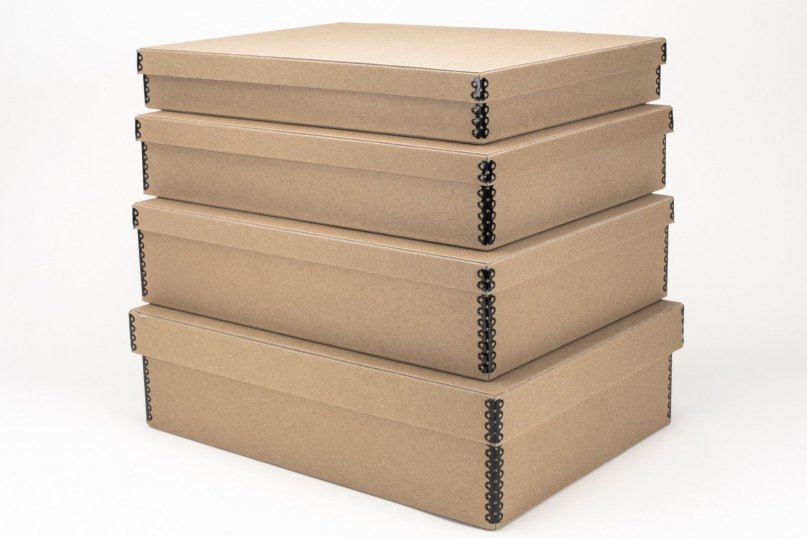 The 28 section box holds most standard sized ornaments and miniature ornaments. The packing tissue pictured here is the white Luxury Acid-Free Shred but a more affordable alternative in beige is HRX Package Crinkle Cut.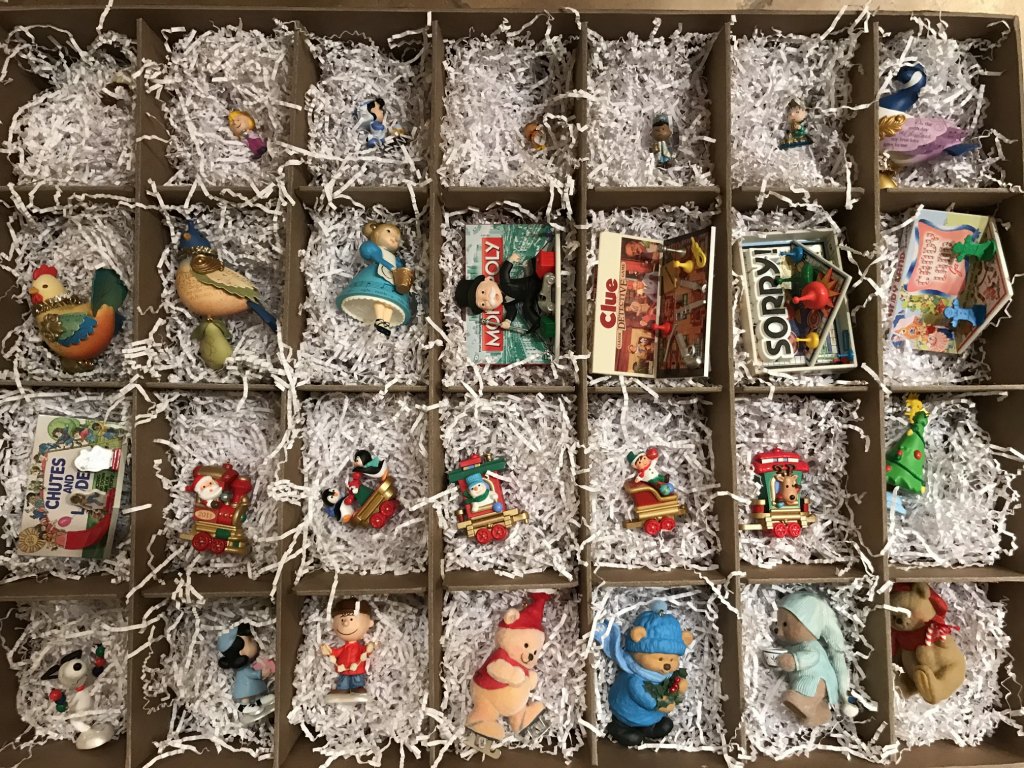 The 16 section box is the most versatile and has multiple notches to change compartment sizes. The ornaments are pictured here with Gaylord Archival Unbuffered Shredded Tissue. I used these longer pieces of tissue before I found the finer grained style. This more traditional archival shred doesn't cradle the ornaments very well and the shreds are always hanging out of the boxes.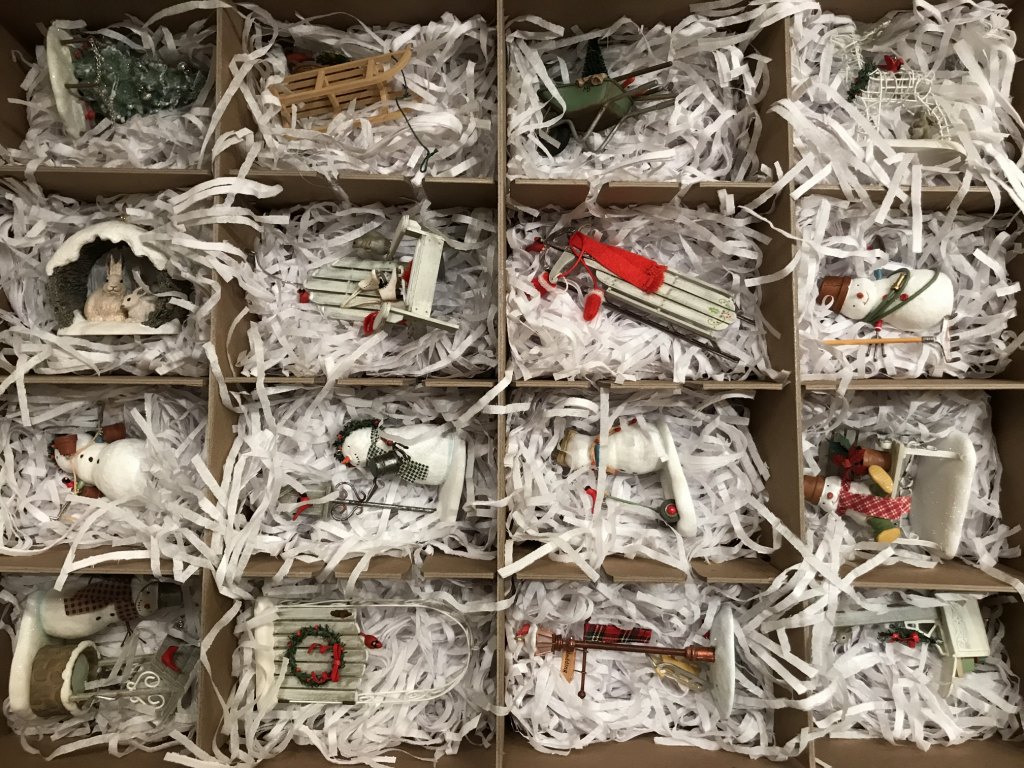 The 12 section box comes in two heights: 5 inches and 6 inches. I have found that the 5 inch version is plenty of depth for the most massive tree ornaments. If you are trying to store tabletop figurines you may need the 6 inch version.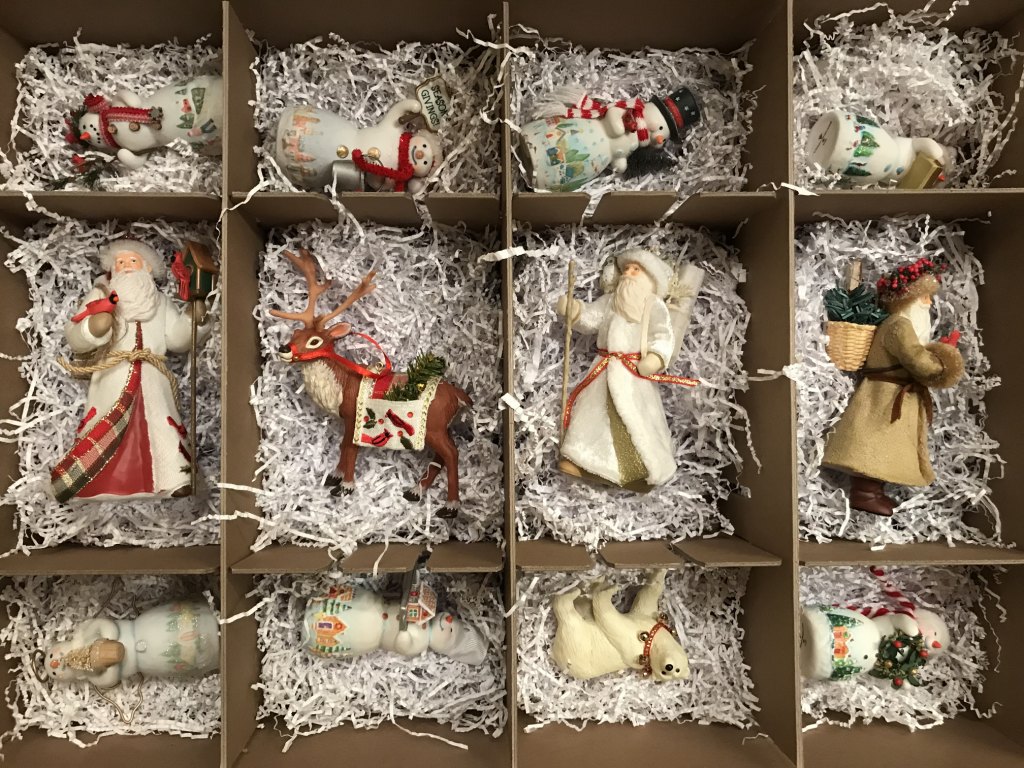 And here is another 12 section container to show how you can modify the compartments to many different sizes.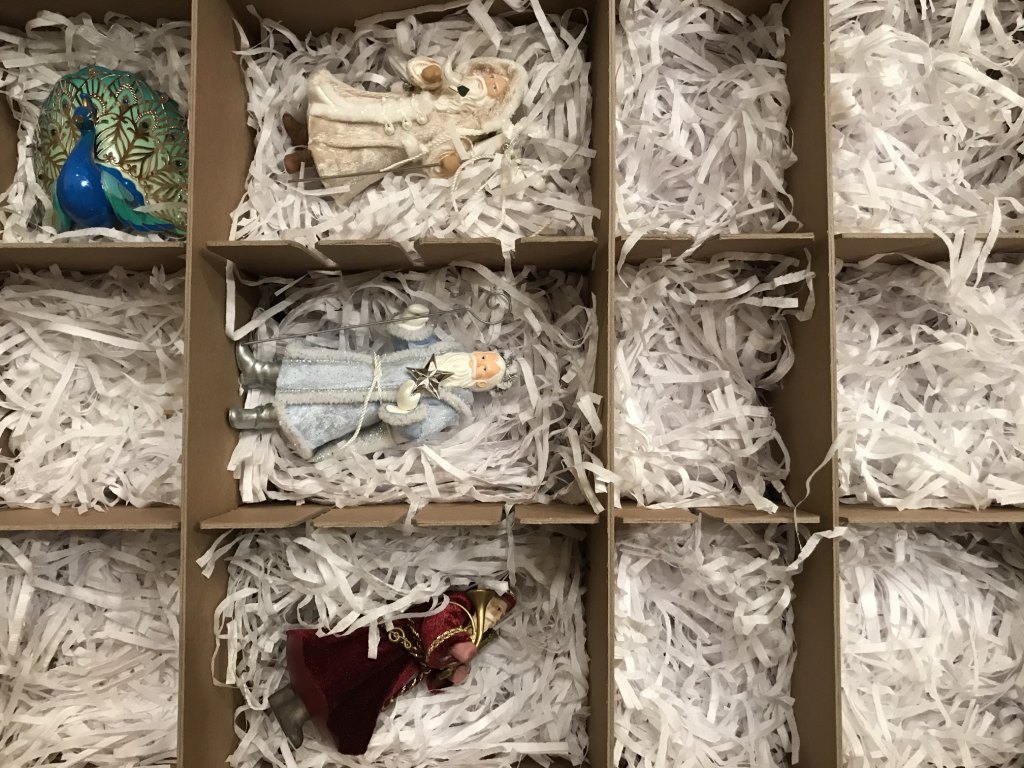 That covers ornament storage. Remember that the archival storage boxes should be kept in a temperature controlled environment to protect paint and mechanical parts. You can also choose to leave the tree hooks attached to the ornaments in storage for more convenient decorating each year. I don't like to leave hooks attached because I'm a bit paranoid about inadvertent scratches.
Storing Ornament Boxes
The first question you should ask yourself is: do I want to keep the ornament boxes at all? For many collectors, the boxes are not worth the space to store. To save yourself the hassle, I would recommend only buying ornaments you'll love for years to come. However if you are a purist collector or have any intention of re-selling some ornaments later on, then keeping the boxes in mint condition is a must.
There are really only two ways to store boxes: intact with inner packaging or flattened without inserts. Most ornament boxes have either tissue paper inside or a clear plastic insert. Many buyers don't care about the inner packaging; most small-time re-sellers can safely remove inserts and unfold and flatten the boxes for storage. Flattened boxes take very little space to store and you can easily store hundreds in a small plastic bin. If you can't bear to throw away the inserts, then brace yourself for a garage's worth of bins!
Do-it-yourself Tree Hooks
As your ornament collection grows, you may find that run-of-the-mill hooks no longer suffice. Most pre-made tree hooks are 26-gauge wire which is extremely thin (wire gauge works in reverse, so higher numbers are thinner). You may need extra long wire sections if you have a long-needled pine tree or if some ornaments are particularly heavy. For most ornaments I use Darice 22-gauge dark green floral wire which is extremely affordable and comes in large spools. If that feels too thin for your situation, Darice also makes a 20-gauge version. For particularly heavy ornaments, I use Beadsmith Aluminum Dark Green 18-gauge wire, which is as thick as you can go and still fit in the ornament hooks. If you like the hooks to stand out, you can also try Benecreate 20-gauge gold or silver wire. Grab a small pair of wire cutter pliers and start clipping your custom hooks!
Ornaments Pictured
Some readers have requested information about the ornaments pictured in the storage boxes. All of the ornaments pictured are Hallmark keepsake ornaments. I don't collect Hallmark exclusively, but they happened to be what I took pictures of and they do compose the majority of my collection. Other brands of collectible ornaments you might like are Lenox, Jim Shore, and Spode.