Nobody quite does New England prep handbags like Dooney & Bourke.  While they had an unfortunate stint in the early 2000s with rainbow logo Coach look-alikes, the brand has fortunately returned to its roots as a purveyor of leather handbags that make you want to pull on your breeches and tack up your Thoroughbred hunter for a jaunt about Horse Guard State Park.
Affordable these bags are not—although if you normally frequent brands like Hermès you'll think they're a steal—but for the poorer yet stylish among us, Dooney & Bourke holds a "12 Days of Dooney" sale to herald in the holiday season. This sale was the perfect time to get my hands on my first official D&B accessory.
As soon as I saw the sale, I thought I knew what I wanted: the Florentine Medium Satchel. This purse has a classic silhouette, just the right amount of fringed tassel, and I-have-to-touch-it buttery soft leather. It will adapt to almost any occasion unless you're the fur-wearing gala-going type. I knew it—I had to have this bag.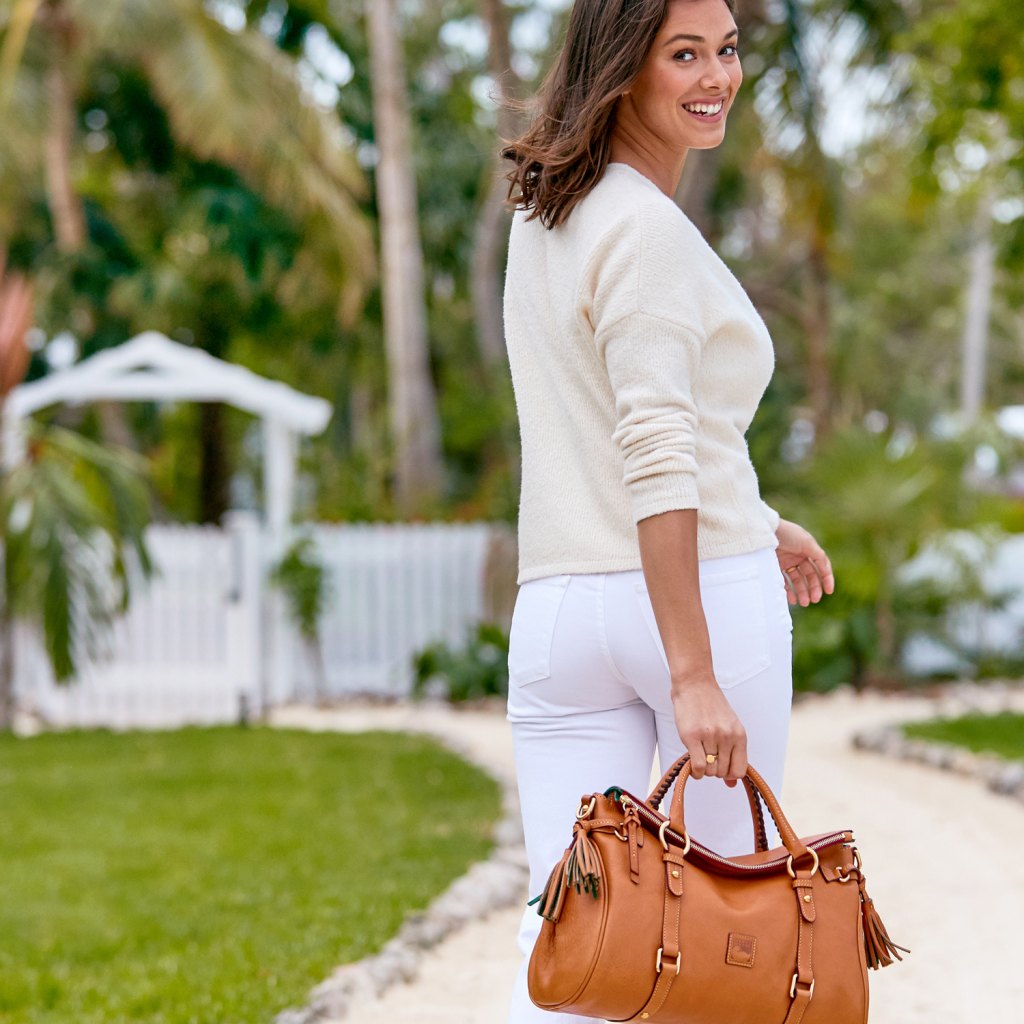 But then…the price tag. I looked at the return policy in case, heaven forbid, I didn't like the bag. Well, ew. You pay return shipping. What if the bag's defective? More ew. Not only do you pay return shipping, but if you want an exchange for a non-defective purse, you will pay full price for the exchange. Come on, Dooney.
So I delved into research mode to make sure I really wanted this handbag. I watched videos and read forum posts by purse aficionados who take these little bags way too seriously. The end result? The Florentine Medium Satchel was not right for me. The top started out straight and you had to manually force it to fold over like the picture. Three months of that, no thank you! The bag's opening is also deceptively narrow which makes it difficult to rummage around. I'm nothing if not practical, and I pull things in and out of my purse 100 times a day. I can't be struggling to reach inside my purse and then carefully fold over the top each and every time.
Was there a similar yet more practical cousin of the florentine satchel? Why, yes there was, though I must have passed over it a dozen times. The Florentine Bristol Satchel is roughly the same size and has a very similar look and feel. But there's no wanky fold-over top and the zippered opening is plenty wide to sort through all your purse junk.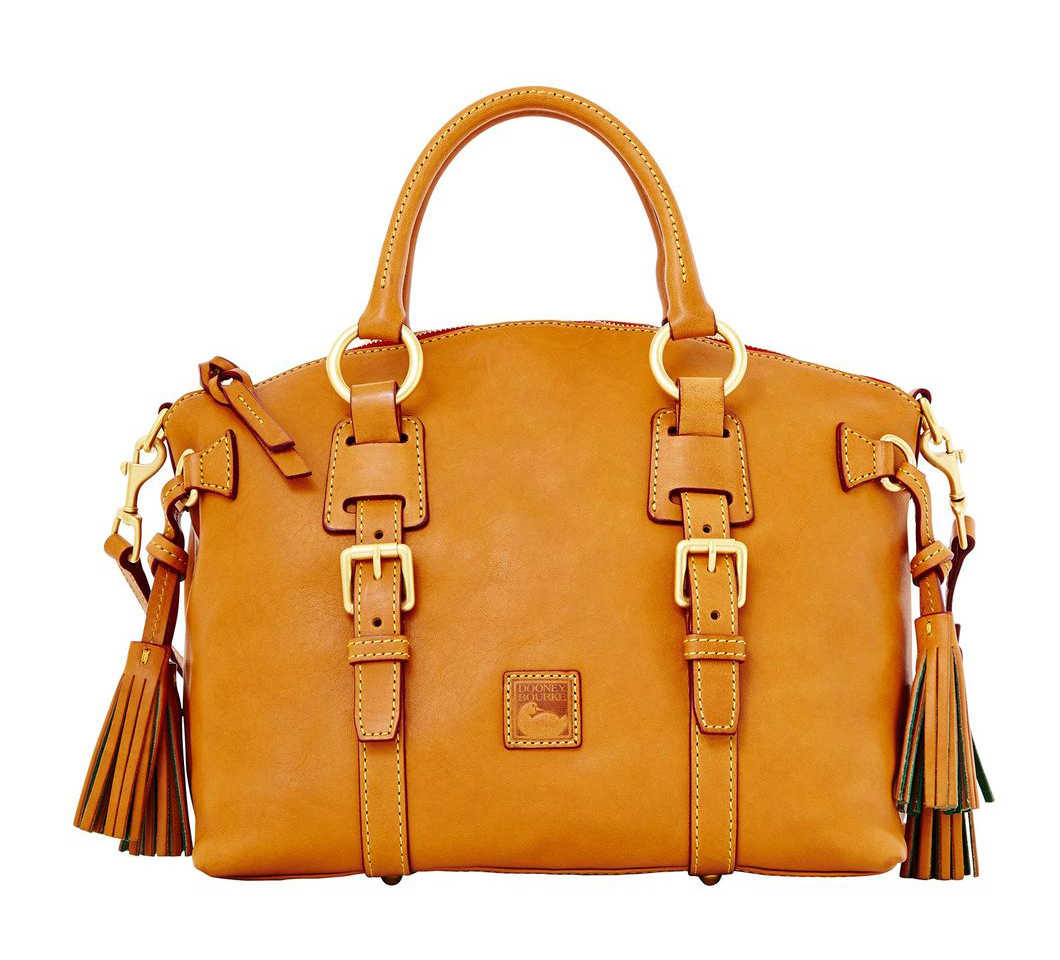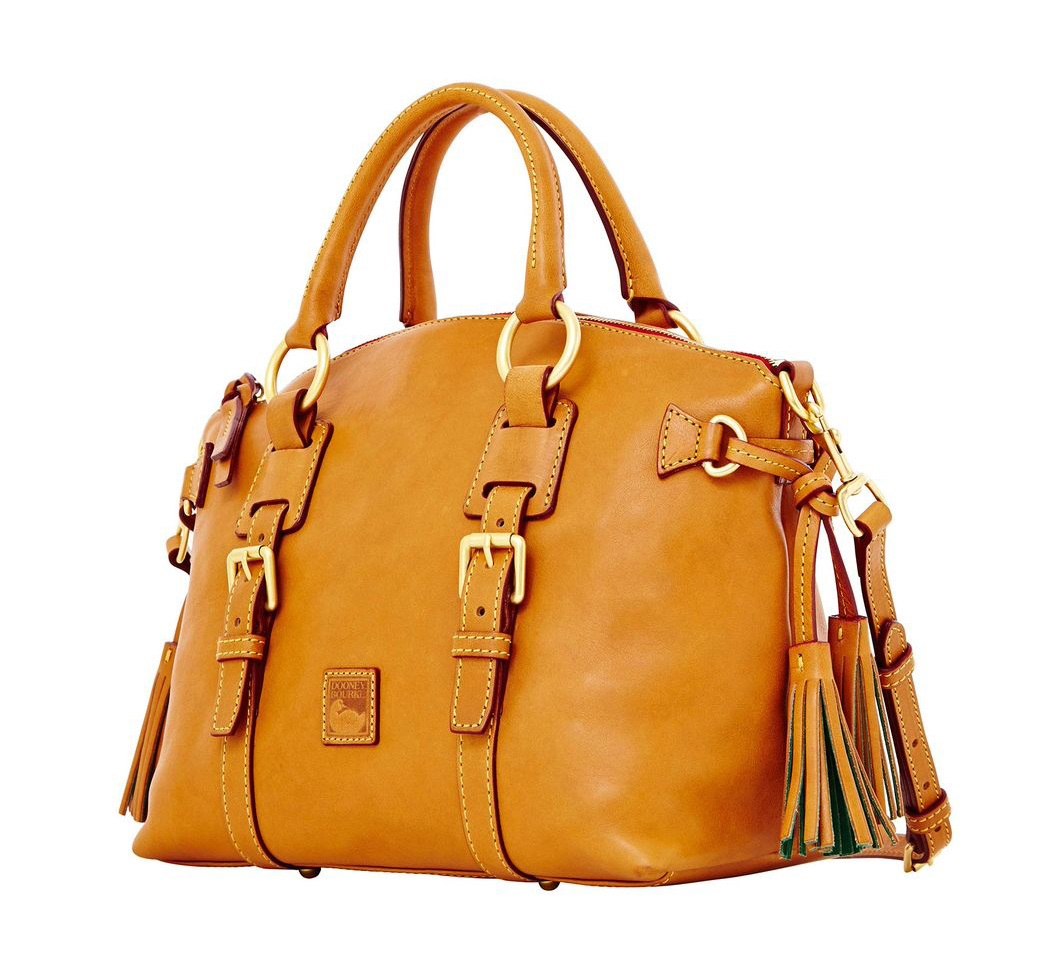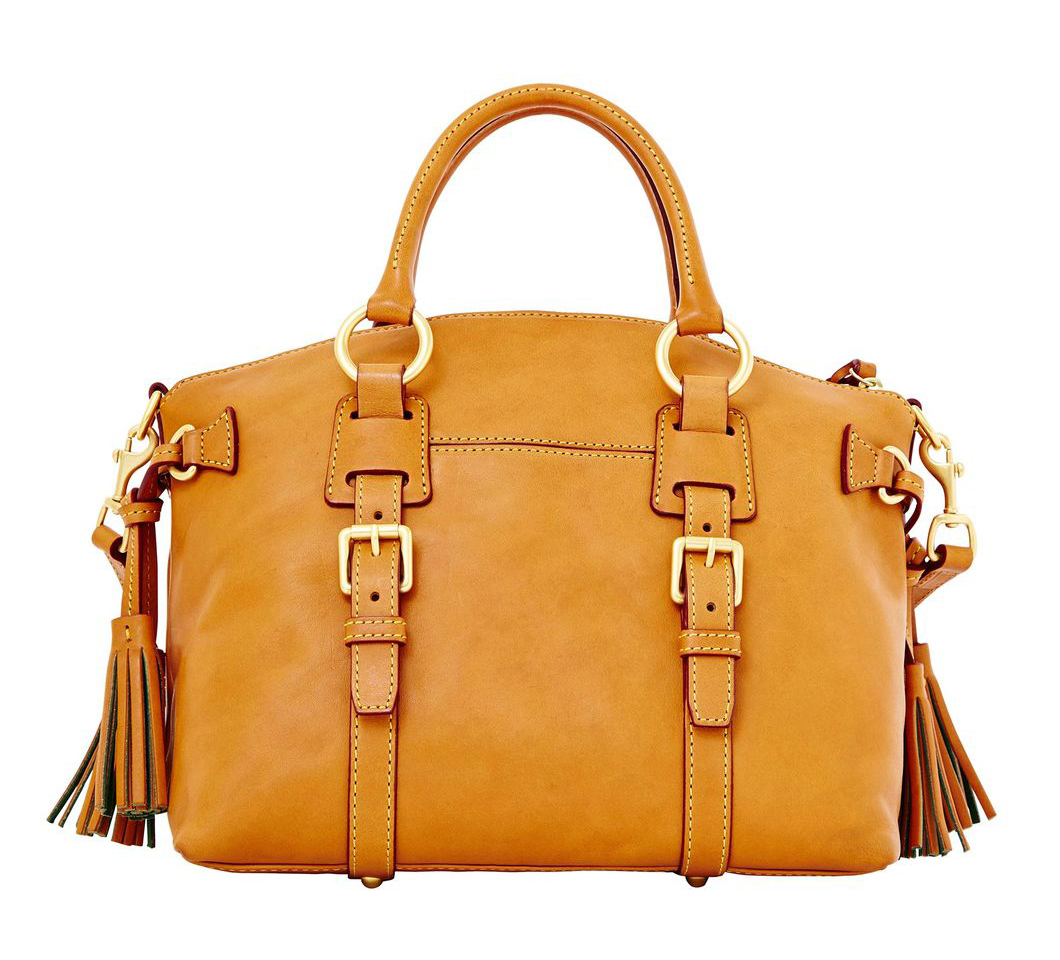 It's a beautiful bag but there are a few caveats the prospective buyer should know. First off, the florentine leather line is awfully delicate. Every time I touch the bag with so much as the itty bitty side of a fingernail, it scratches. Unlike Dooney & Bourke would have you believe, the scratches do not rub out! This bag will look aged and worn very quickly. Secondly, the florentine leather color is quite variable from bag to bag, but it never seems to show as brilliantly as it does in the photos. It's basically cognac and looks like a saddle or riding boot—a medium orangey brown. I liked the slightly lighter color shown in the pictures and thus was a bit disappointed in yet another cognac bag. Thirdly, you probably won't like the first bag you buy. Quality control seems nonexistent. Logos and patches are sewn on crooked. Odd purple dye striping. Wavy zippers. Scratched hardware. Heavy striae and wrinkling. For this reason, you may want to buy in person rather than online. The exchange policy is not friendly to perfectionist bag hunters. And although you could, ostensibly, buy five bags on sale in hopes of one good one, you will be paying return shipping for all the others.
Although Dooney likes to say that its florentine leather needs nothing more than light dusting with a soft cloth, the Internet disagrees. Not only is this leather prone to scratching, but water stains (as you rush from your house to your car on a rainy day) can permanently stain the handbag. A regular application of Apple Leather Garde repels water and stains, and an quarterly cleaning and conditioning with Apple Cleaner and Conditioner keeps your bag looking as new as can be hoped with florentine.
My uncertainty with the fragile florentine leather led me to try another D&B bag, this time made of a smooth city leather. The description of city leather was rather sparse, but in the photographs it appeared smooth and durable. The City Hobo was a new addition to the brand and seemed like my kind of bag: zippered and roomy main compartment, comfortably wide shoulder strap, and magnetic flap front pocket for quick access to phone and keys.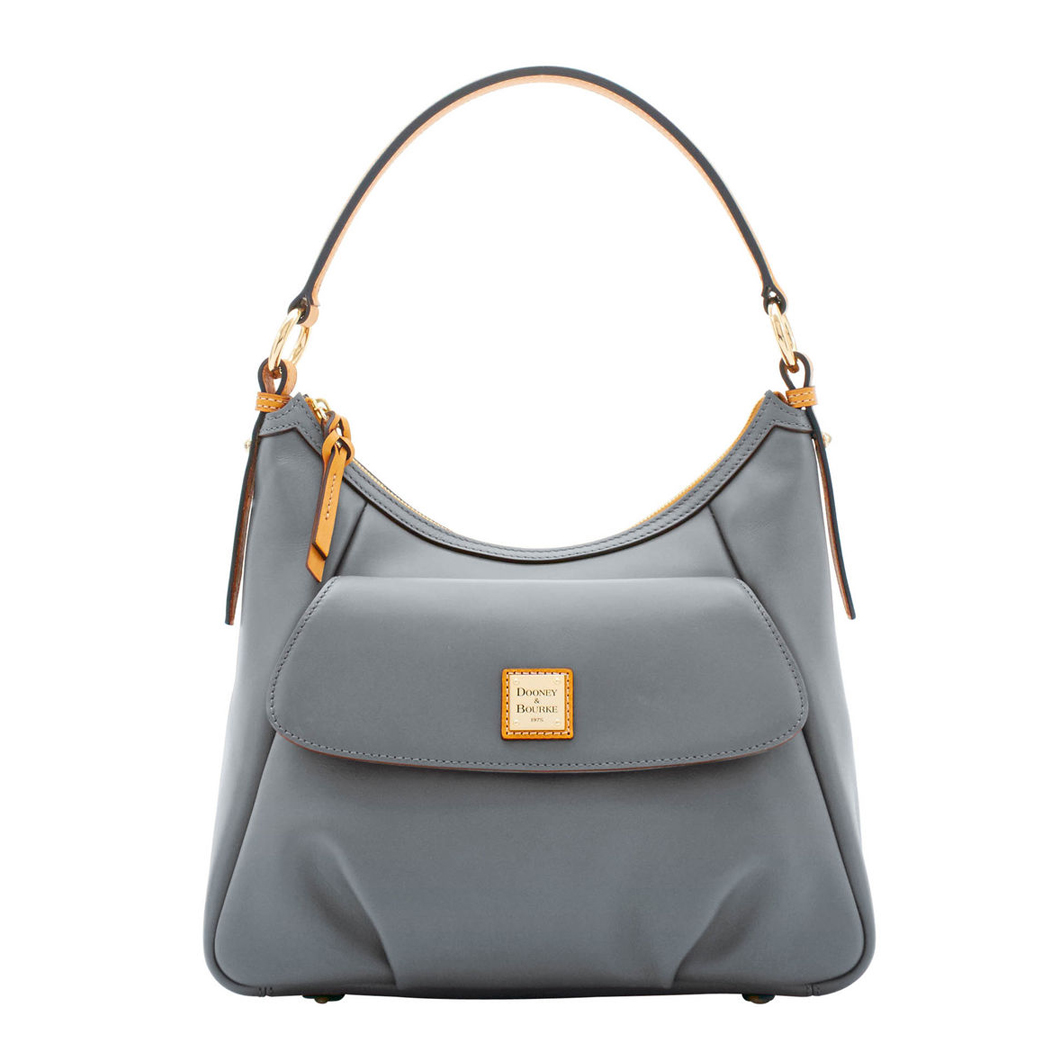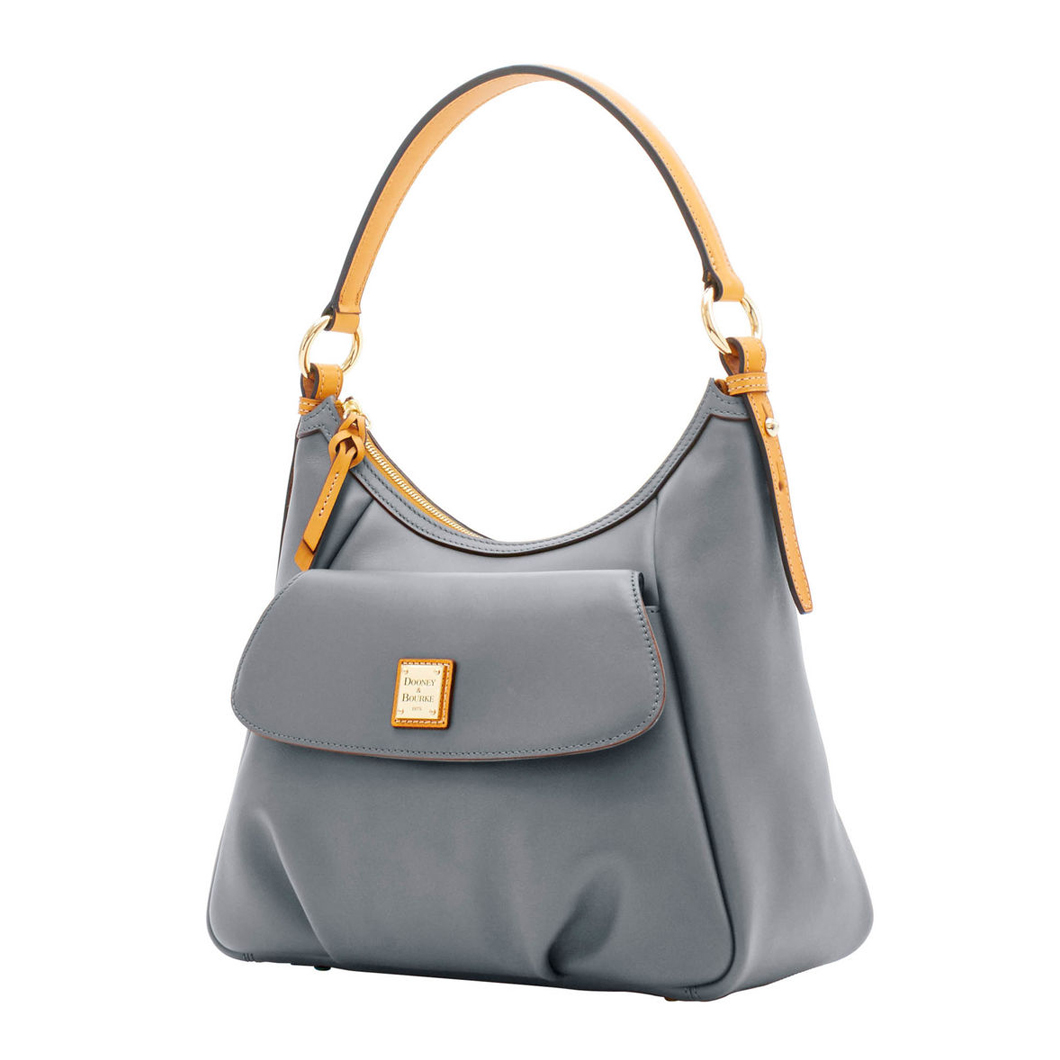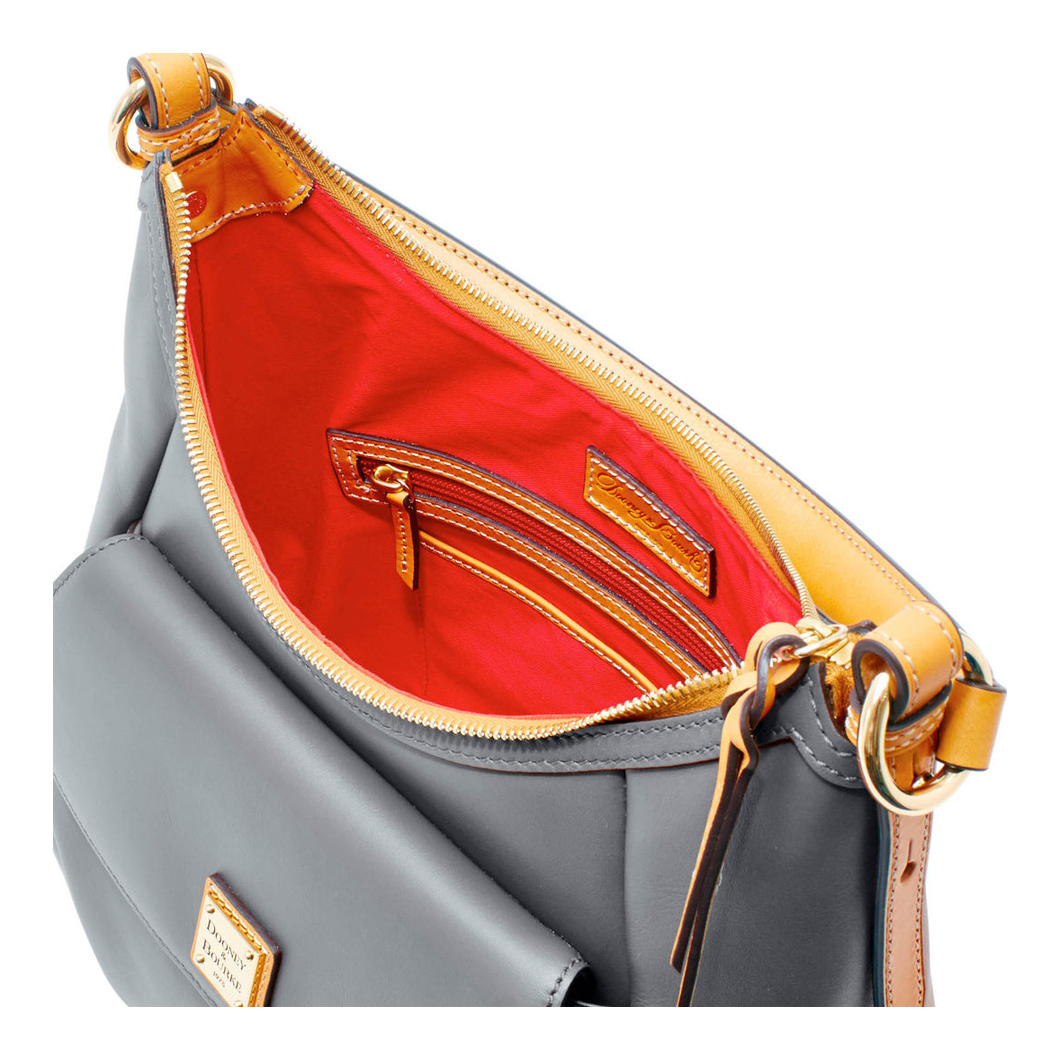 I ended up returning this bag because of the odd contrasting trim that looks far worse in person. Mixing warm and cool tones seems to be a trend with Dooney lately, and I must say I'm not a fan. I also wasn't pleased that the front pocket was incredibly wrinkled, hinting that I might have tragically stripped the leather from an old elephant that looked just like Dumbo's mom.
Final verdict? I kept the florentine bag but I wouldn't buy another. I might buy another city leather or pebbled leather Dooney bag, on sale, but only if I could inspect the workmanship before purchase.