We use and abuse our feet daily, and consequently our trotters look worse for the wear. Once your calluses start catching on your socks and bed sheets, you know it's time for a tootsie spa day intervention.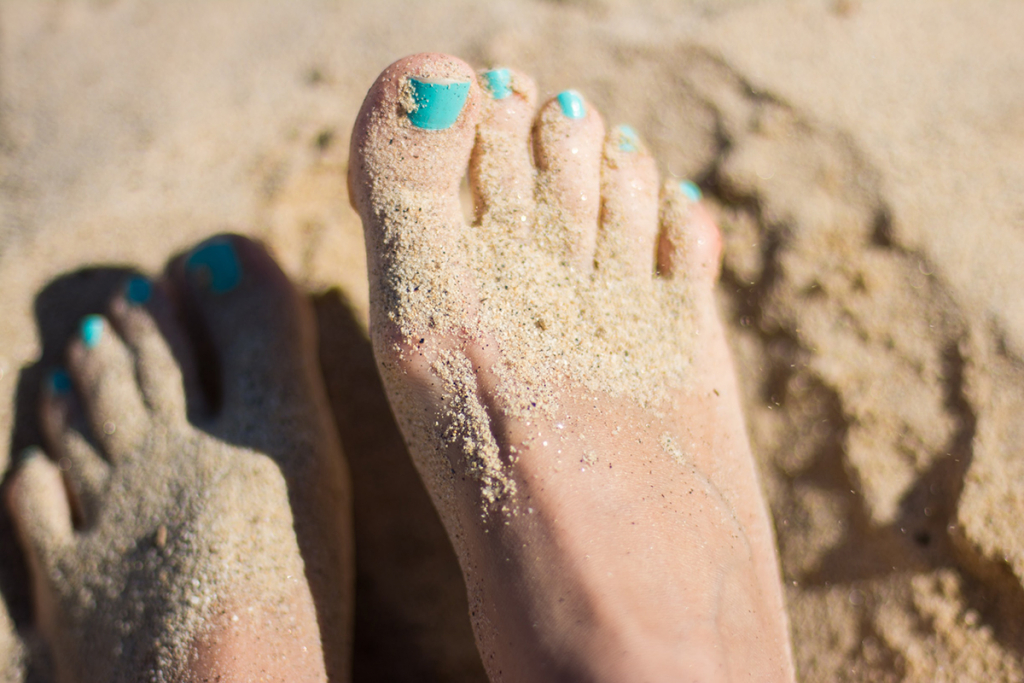 Exfoliate
Feet naturally shed thousands of skin cells a day as well as picking up dirt from floors and footwear. However, our modern lifestyle of sneakers and carpet don't provide much natural exfoliation (think walking barefoot on a sandy beach). Which means we need to scrape away those dead skin cells regularly to keep our feet soft and smooth.
Foot Rasp
A good foot rasp debrides the uppermost, superficial dead skin layer. Rasps and similar tools are generally only used on calluses which typically develop on the heels and the outer sides of the base of the big and little toe.
This holy grail foot rasp looks like a fine-edged cheese grater for your feet. Great for nightly use on the heels to scrape off the day's emerging dead skin.
If you find pumice stones and manual foot files tiring, well, this version 2.0 foot file is for you! This rechargeable, battery-powered foot file sands and smooths calluses at the push of a button. There are three heads of varying textures: coarse, medium, and fine. I find it works best to do a pass with each, starting at coarse and ending with fine. The roller turns 360 degrees for all your foot crevices and the roller is refillable.
Exfoliating Mask
Masks are the new, better way to chemically exfoliate your feet. While exfoliating foot creams have been around for ages (such as Amlactin), the fact is that we use our feet constantly and lotions end absorbing into the floor, socks, or bed sheets instead of staying on our skin. Foot masks use plastic, temporary socks to keep the chemicals close to the skin while still allowing us to walk around the house.
Earth Therapeutics Gentle Peeling Foot Mask
This fresh-smelling foot mask combines glycolic, lactic and salicylic acids to chemically exfoliate the feet. Tea tree oil gives the blend an antibacterial and antifungal boost. Wear this mask for at least 60 minutes and the skin will slowly peel and renew itself over the next two weeks.
Holler and Glow Sole Surviving Exfoliating Foot Mask
For a gentler, vegan-safe mask, try this coconut oil and Vitamin E infused darling from Glow and Holler. After 60-90 minutes, the lactic and glycolic acids start working and you'll see the grossly satisfying peel for the next week.
Soak
A foot bath is more than relaxing—it hydrates your skin and softens up thick calluses. If your feet are particularly gnarly, I recommend a dry exfoliation with a foot rasp, then a soak, then a "wet" chemical exfoliation with a foot mask. And adding epsom salts to your foot soak fights fungus and relieves muscular aches and pains.
This luxurious at-home spa provides bubbles, heat, and massage attachments for your feet. Perfect for a relaxing soak while enjoying your favorite television show. Foot soaks should last a minimum of twenty minutes to provide the maximum hydration benefits.
Moisturize
Ahh, moisturization—arguably the most tedious step of podiatric health. While exfoliation can be rammed into a powercharged sixty minute session, the best moisturization lasts all day. Until someone creates elegant moisturizing shoes or socks that you can wear fashionably to work, we have to take what time we have at home to pack moisture into our feet.
Moisturizing Socks
Earth Therapeutics Gel Booties
Arguably the most effective moisturizing socks on the market, but certainly not the most comfortable! The inside liner is a "transdermal gel infused matrix" with jojoba oil, vitamin e, and olive oil. In plainspeak, the inside feels like slightly damp rubber which can give our feet the sensation of suffocation. Best worn overnight—if you can stand them that long.
Moisturizing Masks
Aveeno Repairing CICA Foot Mask
Aveeno does it again with the amazing properties of oatmeal in this ultra moisturizing mask. Shea butter and prebiotic oat provide rich, long-lasting hydration to parched feet. Wear for 10 minutes and remove—no need to rinse.
Using a blend of essential oils, these masks provide hydration and sealing in just 20 minutes. Amope offers a variety of oil blends to suit your taste, such as coconut, macadamia, lavender, and tea tree oil. Because of the high occlusive oil content, these masks are prevent moisture from escaping into the air and are especially beneficial in arid climates.
If you suspect fungus or bacteria on your feet, this mask is for you: it moisturizes with luxurious shea butter, softens with urea, and attacks infection with witch hazel and tea tree oil. This foot mask is sized smaller than most, and will fit a size 9 women's foot at largest.
Holler and Glow Avo Good Day Nourishing Foot Mask
Forget avocado toast, let's try avocado feet! Another winner from Holler and Glow, this mask contains an indulgent mix of avocado oil, olive fruit extract, hyaluronic acid, and grape extract. Let it sit for 20 minutes and then enjoy fresh, hydrated skin.
Moisturizing Creams
This is a true hydrating cream—all moisture and no peeling. Since creams easily wear away, exfoliation is better accomplished through a mask or a mechanical tool. Save your foot creams for pure moisture, like this 19.5% active marine hydrating complex that penetrates below the surface.
High concentration urea is one of the few softening ingredients that can only be successfully delivered in lotion form. To make sure the urea has time to do its work, apply and leave your feet elevated for at least 30 minutes. Or try one of our favorite DIY heel hacks: apply the cream and place your feet in plastic sandwich bags.
If you still have open cracks after exfoliating and moisturizing, seal them off with liquid bandage. This semi-glue-like liquid binds the edges of the crack while your body heals itself. Because the liquid bandage is biologically safe, your skin can safely grow over it.