Most forms of exercise require equipment and yoga is no exception, but thankfully, yoga is fairly low maintenance in this regard. Most yogis only need two fundamental items: a yoga mat and a yoga towel. Both items should be made specifically for yoga to accommodate the unique aspects of this ancient ascetic exercise. Durability is also important as both the mat and towel will be used throughout every yoga session.
Ancient yogis practiced on dirt, salt-reed grass, or animal skin rugs to prevent their hands and feet from slipping in asana practice. As animal skin rugs became rare and as yoga moved indoors, yogis needed new materials to provide a non-slip surface. "Sticky" rubber is now the standard choice for a yoga mat, There here are many manufacturers out there, though, so how do you know which one to choose?
The Cheap and Easy
When I started taking yoga classes I bought a Gaiam Yoga Mat because it was on sale at a Target near the yoga studio. Like most run-of-the-mill mats, it wasn't very comfortable. At only 4mm thick (about 1/8 of an inch), the mat provided no discernible cushion for high-pressure poses. When I went into downward-facing dog I could feel my wrists painfully digging into the floor. The dimensions were a traditional 68 inches long by 24 inches wide, which seemed too small for my thin and average height frame. The mat did not grip the floor at all and slid around constantly—I nearly tumbled over in very basic poses such as half moon or eagle.  It wasn't long before I was looking for a better yoga mat.
The Cult Favorite
The next mat I tried was what one of my instructors used: the Manduka Pro. This mat is very popular in East Coast yoga studios and definitely has a cult following. The Manduka Pro has a thickness of 6mm (1/4 inch) and is very comfortable for any pose. It comes in a a longer length of 71 inches or an extended length of 85 inches. All Manduka Pros are slightly wider than most mats at 26 inches.  This mat is very dense and weights a whopping 10 pounds compared to most mats weighing 2 pounds. The Manduka Pro has a smooth closed cell surface which prevents bacteria from infesting the rubber crevices. While an anti-bacterial design is great, the smooth surface also makes the Manduka Pro extremely slippery under your feet. Fortunately the mat is so heavy that it doesn't move around the floor, but it still doesn't feel safe when your feet are slipping all over the mat! Even devoted Manduka users report that this mat requires constant salting and cleaning.
The Hybrid
Another popular yoga mat is the Jade Fusion. This is a hybrid mat meant for hot yoga, pilates, or other higher impact activities. The Jade Fusion's major positive quality is that it is one of the thickest mats around at a a whopping 8mm (5/16 inch) which will provide plenty of cushion even on concrete studio floors. The Jade company is focused on environmental sustainability, and if you're into eco-consumerism you will be glad to know that Jade plants a tree for every yoga mat sold. All Jade mats use open cell rubber for better grip. This is a very sticky mat which is very safe in sweaty hot yoga sessions. This mat weights about 7 pounds and comes in two lengths of 68 and 74 inches with a standard width of 24 inches.
While I really liked the Jade Fusion and its lightweight sister the Jade Harmony, I was struggling to stomach the price tag of both the Jade and Manduka mats. A thinner lower-end mat from either brand will run you about $80 while the pro mats can cost up to $150. This seemed way too expensive for my casual yoga-going tendencies. That said, I didn't want to fall over again on a Gaiam mat or an all-purpose exercise mat. There had to be an affordable and safe alternative for the casual yogi–right?
The Affordable Alternative
Fortunately, there is a small family company that makes high quality yoga mats at an affordable price point. The Aurorae Classic is an excellent mat that is 72 inches long, 24 inches wide, and and 6mm (1/4 inch) thick. It uses open cell rubber for better grip and also comes with a free pack of rosin to salt your mat. This mat is almost identical to the Jade Harmony but at half the price! Aurorae doesn't have a huge selection like bigger yoga companies, but at this price point I am definitely not complaining. Aurorae has also expanded their line to include the Aurorae Ultra (extra long and wide) and the Aurorae Pro (a dense cork and rubber hybrid mat). You can see my Aurorae Classic in color "Infinity" below.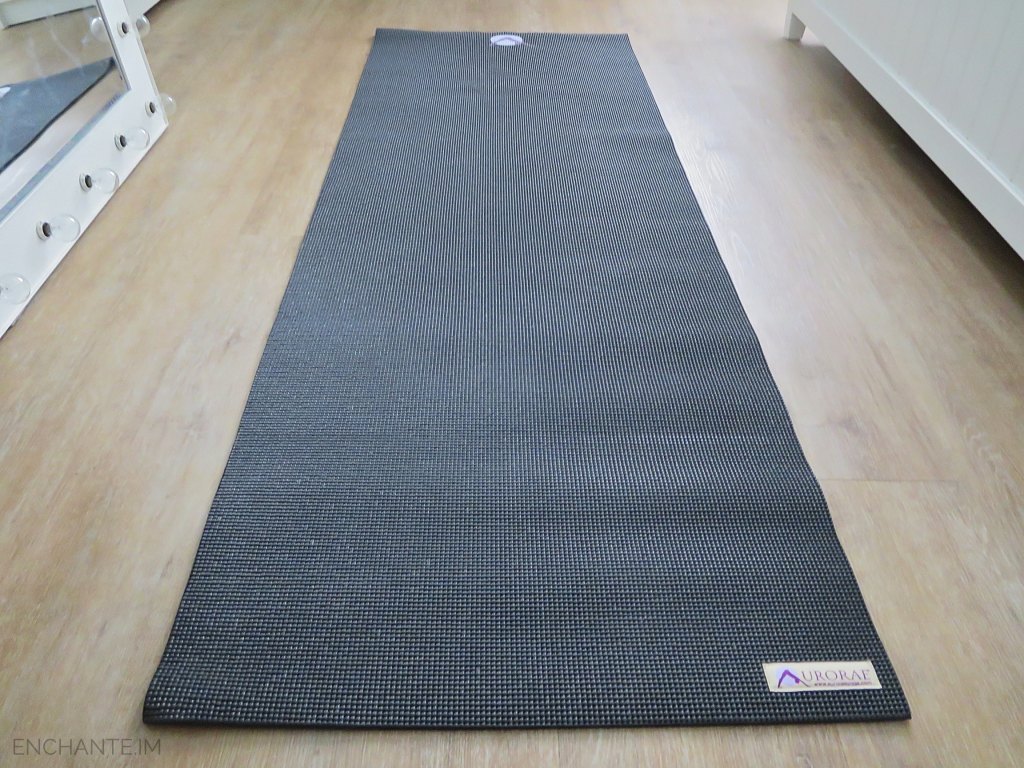 The Accessory
Once you've settled on a mat, the next fundamental piece of yoga equipment is the yoga towel. If you only do low intensity forms of yoga you may be able to skip the towel altogether. However, once you advance to hot yoga, restorative yoga, or any form of yoga that induces sweat, a good yoga towel is a must! Youou may be tempted to grab a junk towel from your laundry room, but there are a few reasons why that's not a good idea. First, you need a towel that dries quickly; your towel is no good if it's a sopping heap after the first ten minutes. Second, you need a towel that is big enough to cover your mat; the towel is not just for wiping sweat from your brow, but for lining your mat during hot yoga. Thirdly, the towel needs to repel bacteria and most cotton towels do not.
Just like yoga mats, yoga towels are a niche item that can be surprisingly expensive. The best price point I found was the LEVOIT Yoga Towel Set. These 100% microfiber towels absorb moisture and dry very quickly so they can be used throughout the session. The material is naturally anti-bacterial and a breeze to wash. The Mat Towel is nearly a perfect fit for the Aurorae Classic mat and grips well during hot yoga.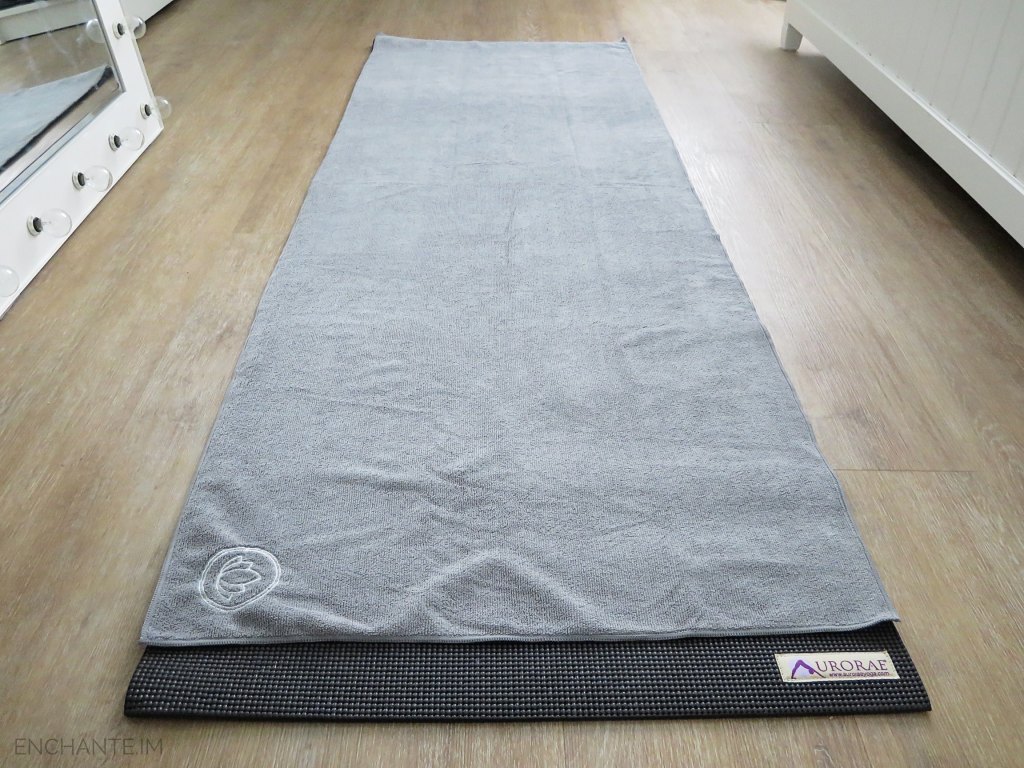 And the best part about this set? You get three towels (mat towel, body towel, and hand towel) for less than one mat towel from other brands.