Basic moisturizers are a dime a dozen, but a moisturizer that works flawlessly under any type of makeup? That's a veritable quest for the holy grail. My personal hunt for the perfect pre-makeup moisturizer has been particularly challenging because of the following requirements:
Completely free of clogging ingredients due to a predisposition to acne.
Does not accentuate dry patches due to bouts of flaky skin.
A smooth matte finish to hide an oily t-zone.
Works universally with different types of foundations (cream, liquid, or powder).
Can be used as a makeup base with or without a primer.
Sets onto the face without making foundation evaporate.
For a long time, I thought that I was simply asking too much of one product. Every time I would accomplish one of the goals with a product, it would cross a different goal off the list. A moisturizer with a matte finish would be great for my t-zone but would highlight flakes on my chin. Quick setting lotions provided a beautiful base for my makeup—until three hours later when the foundation had evaporated in unsightly patches. Some moisturizers seemed to cling to one type of foundation and I would have to remember not to use this moisturizer with that foundation. Luxuriously creamy products would go on like a dream but my nose would be an oil slick within minutes.
And then I was sitting in a doctor's office idly skimming a gossip rag when I saw a bit about a makeup artist who used Embryolisse Lait-Créme Concentré on all her actors with "tricky" skin. As I was having a particularly bad skin day, I whipped out my phone and bought the stuff on Amazon straight away. I'm not typically an impulse buyer, but I am so glad I went ahead that day, because this stuff is seriously amazing.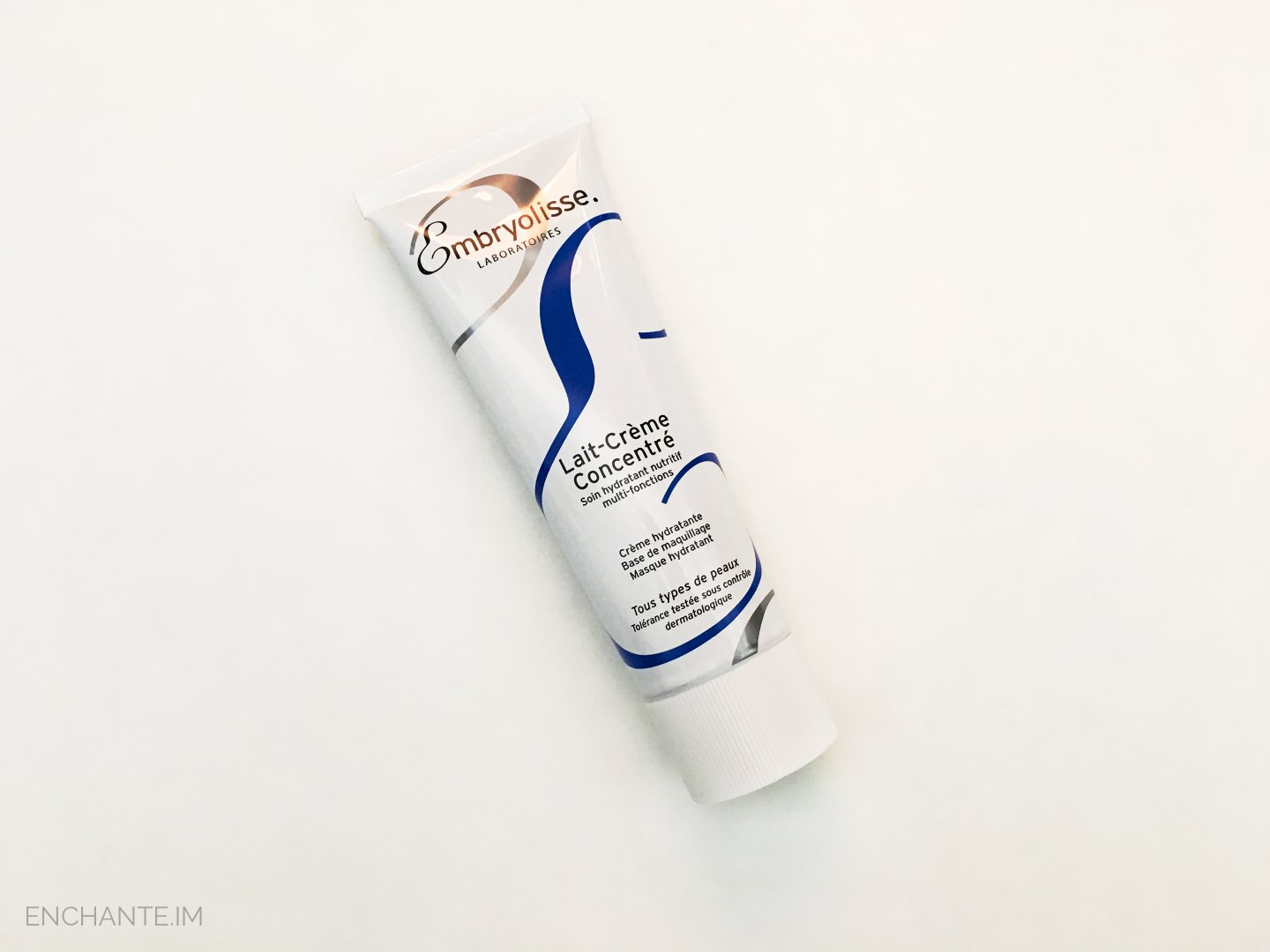 Although I hadn't heard of this product before, apparently it's been around for over half a century and is a cult product around the world. Here's the little snippet from the pamphlet that came with my bottle:
In 1950, a dermatologist at a hospital in Paris specializing in skin patholoies created Embryolisse Lait-Créme Concentré. It was quickly taken up by the medical profession because of its amazing effectiveness, and passed on from generation to generation—sixty five years later it is now a legend, with millions of devotees all over the world. It is such a cult product that today it is considered a must-have by the beauty world, including professional make-up artists, models, and actresses, for priming the skin and enhancing make-up.
As a company, Embryolisse takes great pride in only using essential ingredients for a formula without extra fillers or gimmicky ingredients. This is a great strategy for sensitive skin, since you never quite know what random ingredient or combination of ingredients will make your skin angry this time! Here is what they have to say about their ingredient selection for Lait-Créme Concentré:
Shea butter, rich in essential fatty acids and vitamin A, D, E, and F and renowned for its ability to restore elasticity and make skin silky smooth.

Protective, softening beeswax.

Aloe vera, called "the miracle from heaven" by Indians because of its wealth and virtues; contains vitamins A, E, and B, minerals that combat free radicals such as selenium, amino acids, and essential fatty acids; helps to maintain hydration of the outer layers of the skin.

Soy proteins which have a firming, hydrating action by stimulating collagen fibers. They contain all the essential amino acids.
I am particularly impressed with their use of aloe vera. Nearly every aloe vera lotion I have used will quickly evaporate (and take my makeup along with it) in a low-humidity environment. For this reason, I have a string of aloe vera based lotions that I can only use on no-makeup days or when I'm cavorting about in Disney World in 75% humidity. I am really pleased that Embryolisse managed to include aloe vera and its fantastic properties in a formula that sinks into the skin rather than drying off it.
Well, that's it. This is one of the few products that I love using and have backups of so I never run out! Try Embryolisse Lait-Créme Concentré and let me know what you think in the comments!