Health-conscious people have been weighing themselves since the late 18th century, but it is only recently that we have discovered that weight is not the only indicator of health. Body fat percentage is just as important, if not more, than the number of pounds or kilos. Enter biometric scales that use bioelectrical impedance analysis technology to estimate body fat, muscle mass, bone mass, visceral fat, and water content. Previous to the biometric scale, people had to get their fat grabbed by a skin caliber or hold their breath in a hydrostatic tank to asses their body fat. While a biometric scale won't give you the accuracy of hydrostatic underwater weighing, it's a convenient way to track your progress at home.
FITINDEX
[amazon template=image center 25&asin=B07DLCZ3WF]
The scales at lower price points ($20-$30) use smaller, cheaper sensors that are fairly inaccurate. While you really can't beat the price on the FITINDEX scale, it only showed a 2% body fat change when in reality there had been an 8% body fat change. If you have a lot of weight to lose, or don't particularly care about pinpoint accuracy on body fat percentage, then a cheaper scale like this may be right for you.
Unlimited user profiles
Has its own iOS and Android app
Syncs with Apple Health, Google Health, and Fitbit
Requires hard floor
Supports up to 400lbs
Rollifit
[amazon template=image center 55&asin=B07JW6BLR9]
The Rollifit uses higher quality, wider sensors to better perform bioelectric impedance analysis. This scale is much more sensitive to small fluctuations in body fat and visceral fat. The sleek chassis hides sensors and looks great on a modern bathroom floor. The one major downside is that the scale does not sync with Apple Health.
Unlimited user profiles
Has its own iOS and Android app
App provides health tips and trend monitoring
Syncs with Google Health and Fitbit
Requires hard floor
Supports up to 400lbs
Withings Body Cardio (formerly Nokia Health)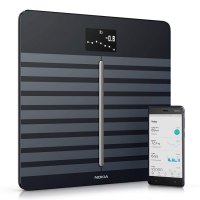 A top-of-the-premium scale, the Withings Body Cardio has a number of additional features such as Baby Mode and pregnancy tracking. There are 10 sensors unlike other scales that only have 4. Many biometric scales require a hard floor, but the Withings scale still performs on thick carpets or rugs. Only 8 user profiles are supported but this should accommodate most households.
Up to 8 users
Has its own iOS and Android app (HealthMate)
App has weather forecasting and nutrition plan tracking
Syncs with Apple Health, Google Health, and Fitbit
Uses an Alexa skill, "Alexa, ask Withings"
Baby mode and pregnancy tracking
Heart rate tracking
Works on thick carpet as well as hard floors
10 biometric sensors
Supports up to 400lbs